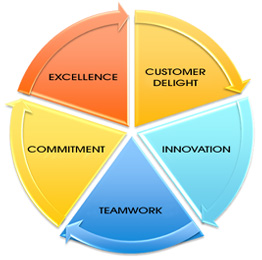 Vaniahsoft is a growing Online IT Solutions & services company committed to provide web solutions globally. We believe that the future belongs to those who prioritize innovation in their business practices. We are looking into the digital horizon and we know where the opportunities will be.
We have all the capabilities to provide integrated online marketing solutions for small and medium business across the globe and are ready for challenges in terms of timely delivery, quality expectations of clients and measurable results.
At Vaniahsoft, a Website Development Company in Kerala, India, we offer an entire range of Online IT Solutions and Services like Web Applications Development, Web Designing, SMS, E-mail Services, e-Commerce Solutions, Responsive Website Designing, Web Hosting , Website Promotion, Search Engine Marketing.
Vaniahsoft, Website Development Company in Kerala, India, will recommend you the correct Online IT Solutions & services at the precise price in approved time lines. We suggest you to use our services for your business requirements for an end to end plan for revolution within your association.
Our Team / Our Strength
Vaniahsoft, Website Development Company in Kerala, India is a team of experienced professionals who posses best talent and having sound educational background with having adequate and appropriate knowledge in their respective field. Our expertise lies in web designing Services, Website development Services, Web Application Development, Website Maintenance, Search Engine Optimization, e-Commerce Solutions and Content Management Solutions. We possess latest available and usable technologies and tools for every domain. As a result, the output obtained is of desired standards and quality which is what every client demands. Our multifunctional team is looking for a connection and interaction with your organization therefore, forming a long term business relationship and becoming a partner with you on a mutual growth path.
To find out more about our web designing Services, Website development Services, web application development, Website Maintenance, e-commerce solutions and content management systems Click here