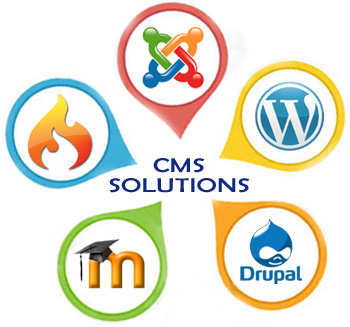 Web Content Management System allow user to manage the content in a website easily and quickly, even if the user is not technically trained. With a Content Management System (CMS Solutions) -integrated website, a user can quickly and securely log-in and can access their content anywhere, anytime. User can basically delete or add images and can also edit text within the website. User can also have search facility and unlimited pages through CMS Development
Basic Web Content Management System features include:
Database driven Website
Editable sections such as news, products, services etc…
Topics sections can be edited/changed/added by authors
Browser upload of stored images
Search Facility
Multiuser Administrative access
Assignment of different roles/privileges to different users
Alert notification systems for admin to be informed if any changes occurred to the existing content
CMS Solutions include plug-ins that helps to extend the functionality of the site
CMS Solutions include the feature of Web standards upgrades.
Content virtualization is possible with CMS where in user can work upon the virtual copy of the website.
Advantages of CMS Website Design and CMS Software include:
Easiest and affordable way to website content maintenance
Quick media content customization and publishing
Customer Relationship Management integration capabilities
Multiple site management and maintenance
Easy indexing and improved search engine rankings
Easy accessibility to the back office for non-technical users
It is never easy to spot the right Content Management System for your business because of the availability of a huge number of CMS's. However, each type of CMS has its own positives and negatives. Following are few factors that determines whether a particular Web Content Management System suits you or not.
The type of content you need to manage
Requirement for social media features
Need for ecommerce facilities
Amount of expected traffic
Need for multi-lingual assistance
Is this the right time to spend some money in database license fees and CMS.
Our CMS services are mainly specialized in following proprietary and open source systems:
Joomla : Joomla is an award-winning and most popular content management system (CMS) of today's date, which enables you to easily create and build websites and powerful online or web enabled applications. Ease-of-use, extensibility, and being an open source has made Joomla a boon for the software developers.
WordPress : WordPress is another open source content management system that was initially started as a blogging site but today it has transformed itself into a complete web software that is used to create a beautiful website or a blog. It supports thousands of plug-ins and themes that create a site that is at par with your imagination. It is completely customizable and can be used for almost everything.
Magento (eCommerce) : The Magento eCommerce system has been adopted by approximately 150,000 online retailers[10] ranging from smaller eCommerce websites to large multinational businesses
We are here to assist you in finding answers to any questions and setting up the appropriate CMS.