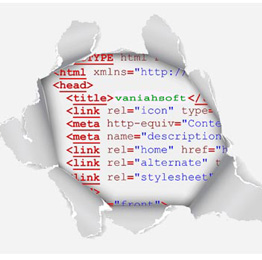 Once we have developed our website it is needed to manage the web presence perfectly in order to gain attention of your potential audiences and search engines as well. It is needed to be updated on a regular basis with latest services, information, or any other news. Many times website owners don't have time to keep their website updated and it cause their website to become idle.
Website maintenance is the process of revising, editing, or otherwise altering existing web pages so that you can update your website with freshest content. The periodic addition of new web pages is also part of website maintenance services. The rules for listing the sites in search engines change constantly. Without updating and taking account of these new rules, a web site can easily become 'lost' in search engine listings. Fresh and updated websites are liked by search engines and are ranked up as well.
Vaniahsoft , professional Web Designing and Development Company in Cochin, completely recognize and understand importance of website maintenance services to stay ahead of your competitors and we specialize in offering to our clients Website maintenance and management services. If your website is not updated and periodically rejuvenated, you would lose touch with your customers in the market. With the immense increase in the number of online users across the world, your website would just be among the few with backdated information. Under web maintenance, We detect and repair broken links, graphics, restructure navigation… anything your previous development company didn't accurately finish. Search engines accept websites that are neatly finished and comprise appropriate keywords matching the content.
Some small businesses and companies can't afford to have a trained, full-time person on staff to make changes and updates to their website once a month. Vaniahsoft can provide Website maintenance services for your business website, at an affordable rate, as needed.
Website maintenance services by Vaniahsoft can significantly reduce your costs by eliminating the need to employ full time website designers / programmers. You need not train your employees for web maintenance.
Vaniahsoft's Website Maintenance Services includes at least the following:
Content update, announcements, articles, etc.
Replace images i.e. Pictures & graphics
Adding/removing web pages
Image manipulation and addition (client supplied images)
Newsletter & email list maintenance.
 e-Mail Campaign
PDF creation and uploading
.
Website maintenance can be billed monthly, quarterly or annually to make changes to your website.