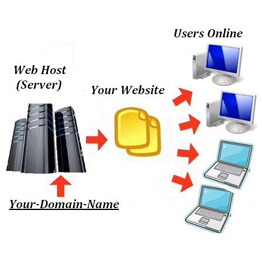 Vaniahsoft, Web Hosting Company in India offers affordable hosting plans to the individuals and organizations to make their own website accessible via the World Wide Web. We are confident to provide quality technical support & after purchase services to customers with our patient and skilled supporting staff.
Why do you need our Web Hosting Services? If you do not have much ability to own your server, our company is ready to give space on our servers. Our business solutions let your business be accessible to your clients. Website hosting is the fist step through which companies or individuals launch their website on www i.e. World Wide Web.
The basic features of a hosting plan include:
Disk Space
Email Accounts
FTP Access
Vaniahsoft, Web Hosting services include
Shared Web Hosting
Dedicated Linux Servers
Semi-Dedicated Web Servers
cPanel Hosting
Reseller Web Hosting.
Dedicated Hosting
In a dedicated hosting environment, you have the entire web server to yourself. This allows for faster performance, as you have all the server's resources entirely, without sharing with other website owners. However, this also means that you will be responsible for the cost of server operation entirely. This is a good choice for websites that requires a lot of system resources, or need a higher level of security.
Shared Hosting
In a shared hosting environment, your and other website owners shared one server. This includes sharing the physical server and the software applications within the server. Shared hosting services are affordable because the cost to operate the server is shared between you and these other owners. There are, however, a number of down sides, such as being slower.
Semi Dedicated Web Servers
It is self-explanatory that semi-dedicated server refers to a server, which is not totally allotted to a customer and is very much owned by the hosting provider. Although you do not offer the total server to a client, you do offer greater control, which means the clientele gets root level access to certain parts of a server. It is much more affordable compared to dedicated server hosting. Semi-dedicated servers offer much better performance as only few accounts share the resources that the server has to offer. Clientele get more resources compared to shared servers, and with more disk space and bandwidth, they can install many more applications.
cPanel Hosting
cPanel hosting offers powerful tools to help any website owner perform essential website tasks quickly, easily, and reliably. It is the industry standard in website management among all top hosting companies. cPanel makes your life as a website owner simple!
cPanel for website owners provides the world's most familiar user interfaces for managing a website. Website owners can easily manage their email accounts, databases, applications, security, FTP, and control every aspect of their websites through using the cPanel.
Reseller Hosting :
Reseller hosting is a form of web hosting wherein the account owner has the ability to use his or her allotted hard drive space and bandwidth to host websites on behalf of third parties. The reseller purchases the host's services wholesale and then sells them to customers, possibly for a profit. A certain portion of hard drive space and bandwidth is allocated to the reseller account. The reseller may rent a dedicated server from a hosting company, or resell shared hosting services.
Which Web Server – Linux or Windows?
Vaniahsoft provides both linux and windows platforms for hosting. The truth of the matter is these two web server platforms are functionally equivalent, it all depends on what are your hosting needs, and what are you most comfortable with.
Both platforms differ in cost, ease of use, versatility and stability. Windows costs more than Linux.
Linux : Allows for running scripts written in PHP, Perl, Python and other Unix-originated languages. It usually supports MySQL and PostgreSQL databases.
Windows : Allows for running ASP scripts and utilizing .NET and other Microsoft technologies. It supports Microsoft SQL Server and Access database.
If your website does not require any scripting support, you should choose Linux hosting because they are more economical. However, if your website needs scripting and database support, you should choose the platform that supports the technologies you use.